Squid Game: Season One was a surprise binge hit from South Korea about a high-stakes game of life and death for underprivileged desperate citizens, and for good reason.
We've tried to keep the spoilers to a minimum and talk generally about the quality of the show. No major twists are revealed.
Squid Game: Season One
Channel/Service: Netflix
Starring: Lee Jung-jae, Park Hae-soo, Wi Ha-joon, Jung Ho-yeon, O Yeong-su, Heo Sung-tae, Anupam Tripathi, and Kim Joo-ryoung
Directed: Hwang Dong-hyuk
Written: Hwang Dong-hyuk
Acting & Casting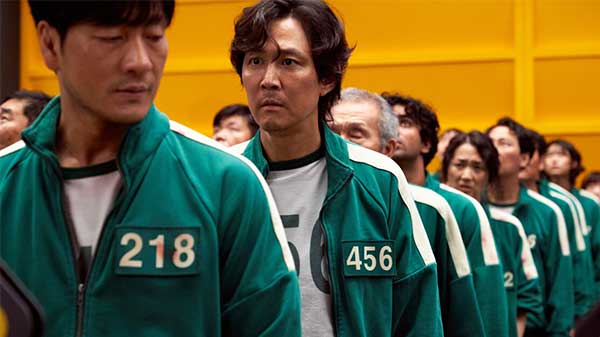 The acting in Squid Game really has no flaws. Sure, there is the occasional "overacting," but that's only really "overacting" by American standards. For a show filmed in South Korea, in Korean, targeted first at a Korean audience… It's not bad at all.
Lee Jung-jae as Seong Gi-hun holds the anchor extremely well. His arc is the show's hidden gem. Watching him go from a despicable layabout to a leader to a heartbroken cynic is astounding.
Park Hae-soo as Cho Sang-woo works well as the person you don't know whether to trust or despise.
Jung Ho-yeon as Kang Sae-byeok is serviceable as the at-first shady girl underdog with a tragic past. She mainly just looks sad in most scenes, but that's more the fault of the writing than her acting chops. When given depth, she goes deep, so we applaud her.
Directing & Production Design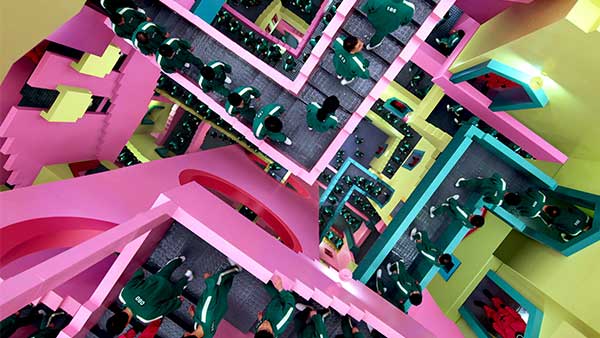 TV show visuals are getting better and better, seemingly all on their own. This is probably due to cheaper technology getting better and better, and technical reasons galore, but there are a plethora of other reasons.
All of that is to say, Squid Game looks great. It's cinematography is movie-quality. That doesn't necessarily set it apart. Still, it's a plus.
What sets the directing and overall visual appeal of the film apart is its set design and costuming/wardrobe. Squid Game uses color like few TV properties do, telling its own story alongside the more obvious narrative. Not to mention the game's oversized sets, which make its contestants look like children–the levels of psychology of which are too deep to go into in this article.
Writing & Story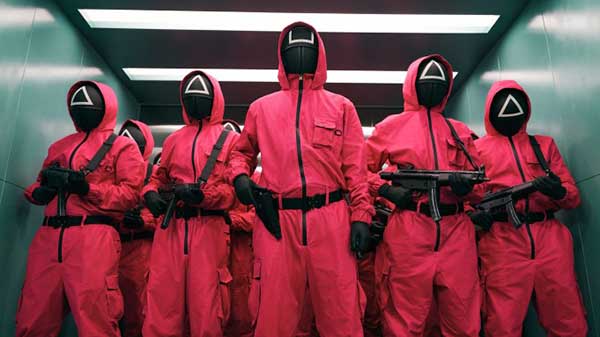 The idea of a murderous game where the winner takes home an insane amount of money is pretty good in itself. Make that game a series of childhood pastimes, and it gets even better. Layer it with metaphoric meaning related to capitalism and sociological concepts, and it gets better still.
That being said, the last episode is… a departure. Numerous critics have found some of the character choices odd, although they make enough sense. Our main problem with it is that it just doesn't live up to the rest. It feels slow, there seem to be no stakes, and there's no tension as a result.
Final Verdict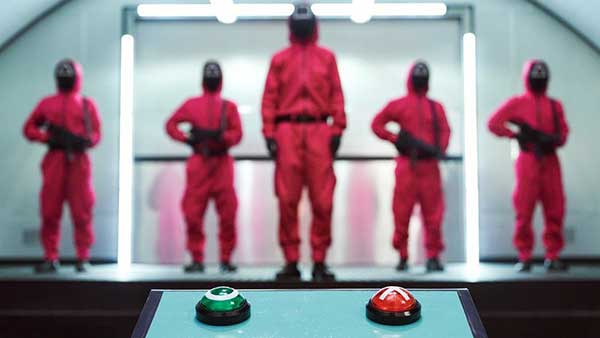 Squid Game: Season One is a great binge watch. While the last episode may bring things down a notch, it sets up Season Two pretty well, so that's a plus for the show as a whole. We highly recommend it, especially if you're in the mood for some quasi-horror with heavy political and moral themes.
What did you think? Let us know your critiques and praises in the comments below!