The trailer for Hulu's TV series remake of High Fidelity dropped today. The series and the original movie, starring John Cusack, is based on the Nick Hornby novel.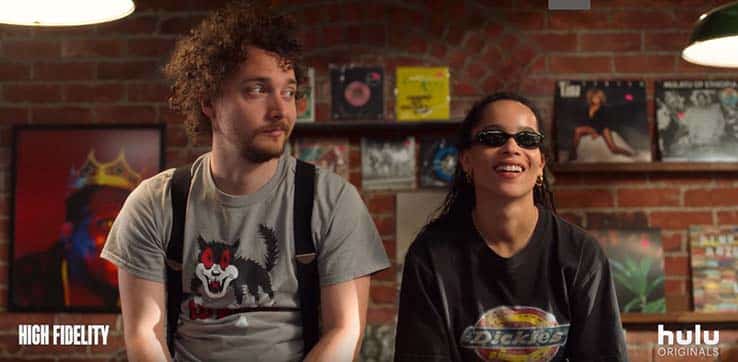 Zoë Kravitz stars in the new adaptation. Funny tidbit, the 2000 romantic comedy stared Lisa Bonet, Kravitz's mother. However, this is no sequel or continuation. The TV series is a from-the-source adaptation and reimagining.
Not only has the gender of the lead been swapped, the location has been moved to Crown Heights. Suitably, the cast has gotten a remake that fits the updated new setting. Fans may recall that the original 1995 novel was set in London while the 2000 film was set in Chicago. A 2006 stage musical set the story in Brooklyn. So, the story is used to being remixed.
For those unfamiliar, the original adaption and the source novel featured love sick record store owner Rob, who waxed upon multiple failed romances while also making his own top 5 list of those same failures. Funny enough, the release date couldn't be more perfect for this remake: February 14, 2020, Valentine's Day.
The series was original set to air on Disney+ but got re-slated for Hulu earlier this year.
Rob (Kravitz) is joined by friends and coworkers Cherise (Da'Vine Joy Randolph) and Simon (David H. Holmes).
Randolph is best known for their recent role in Dolemite Is My Name, while Holmes had a small role in Netflix series Mindhunter. Kravitz, who is also signed on a producer of the series, recently appeared Spider-Man: Into the Spider-Verse. Kravitz will star opposite Robert Pattinson in The Batman, the new reboot/installment of the Dark Knight that's scheduled to release in 2021.
High Fidelity is one of many Hulu Originals, such as the critically acclaimed Handmaid's Tale. The new series will be joined by in the new year by Hulu's second season of Shrill, among others yet to be announced.
Let us know on our Facebook page what you think of the new High Fidelity TV remake trailer.
Watch the High Fidelity TV remake trailer now