The Shining and Doctor Sleep are Stephen King's latest seemingly complete saga, years apart in the making but just as chilling.
In honor of Halloween, we wanted to cover both ends of the story in one review. The Shining and Doctor Sleep are highly recommended as a double feature for your Danny Torrance fill.
The Shining (1980) Review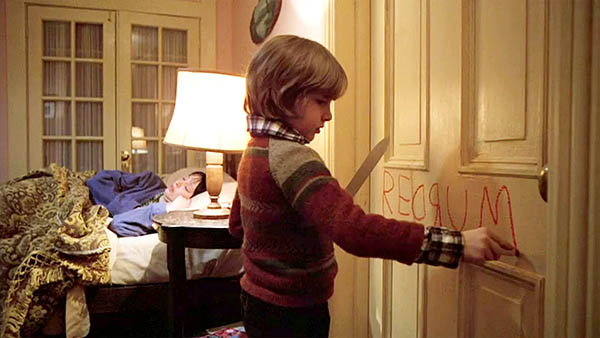 The horror novel The Shining by Stephen King was first published in 1977. In 1980, Stanley Kubrick adapted it for the screen.
King claims he got the idea for The Shining book when his son, who was four years old at the time, drew all over dad's manuscript with a crayon. King recalls snapping at him, and his mind wandered off on a tangent of dark thoughts. Such is the birth of an idea in many cases. A moment taken from real life then accelerated ten-fold, with a twist.
The result was the story of a small family–man, woman, and son–who become caretakers at the expansive Overlook Hotel in the Colorado Rockies during the winter season. Given the hotel is buried under snow and ice five months of the year, someone has to keep the boilers running and the cobwebs at bay. 
Writer Jack Torrance (Jack Nicholson) interviews for the post and lands the job. It seems like the perfect place and time to work on his next book. And his faithful wife and quiet son happily tag along for the adventure. 
At its core, The Shining is a story about isolation and seclusion. A setting, given enough time and lack of contact with the outside world, that is the perfect catalyst for weak and vulnerable minds to let go. 
And Jack Torrance is perfect picking for such a predicament. After a month, he soon finds himself drawn into the large hotel's empty halls and eerie stillness. Instead of inspiring his writing, the hotel summons up the demons lying deep within him. Or is that the demons resting in the hotel during the off season? 
The title relates to a gift the young boy Danny possesses. The Shining allows him to read minds, see into the future, and sense danger. The young tyke appears to be fully aware of his gift but keeps it mainly to himself. That is until the voices of the empty hotel start to whisper, then scream… and impending doom is not too far away. 
But the show belongs to Jack Nicholson who completely carries the film with the effortless talent and scenery chewing performance. Considered one of the movies made at his acting prime, Nicholson loses himself in the part and absolutely devours every frame he's in.
The Shining cast is a mixed bag of results. Trying to match Nicholson's legendary acting chops but falling just a little short is Shelly Long, who plays his wife Wendy. She starts her journey somewhat naïve and oblivious to the fragile nature of the environment they're in. But when things heat up and Jack is on the prowl, her fears get the better of her. She works hard, but her constant look of terror and horror grows a little tiresome.  
In typical Kubrick fashion, the film contains wide shots, long shots, long pauses with actors staring into space or at one other against a backdrop of vibrant colours and ominous music playing over each scene. This creates some chillingly effective moments in the film. Ones that draw you in and visualize the tension being felt and explored on screen to good use. 
Differing in many ways from the source material, the film contains tricks of its own. It leaves you with an ending both shocking and unexplainable. 
For 40 years, fans of the film have debated the meaning of it all and the last frame, with a black and white photo that says a lot, but explains very little. See it and decide for yourself.
Our Rating
4/5 stars
Where Can You Watch The Shining?
The Shining is available to rent on Amazon Prime and for sale on Blu-Ray at Amazon.
The Shining Trailer
Doctor Sleep (2019) Review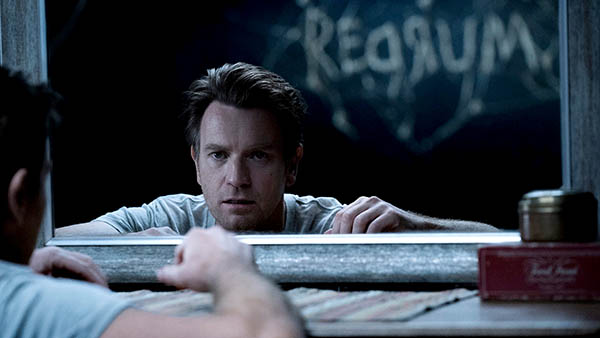 Perhaps no other author has explored the story arc of "Children in Peril" more deeply than Stephen King. Many of his well-known works focus on children in danger, or adults remembering their childhood.
It's great fodder for a fiction writer to revisit their past, rekindle their youth, and release their demons. Stephen King knows his demons well, having put them to good use in his novels for over forty years.
So it was expected that at some point in the later years of his long career, he would revisit something from his earlier days, and explore the potential for expanding that story. This was the seed that must have planted the idea in his mind to write the Doctor Sleep book, which published 2013.
Doctor Sleep tells the story of Danny, the son of Jack Torrance, who survived the pursuit by his axe-wielding dad around an empty hotel. Of course, I'm referring to The Shining, written in 1977 and adapted by Stanley Kubrick in 1980 starring Jack Nicholson. This time, the lead part of the Doctor Sleep movie goes to cinema's most reliable everyman, Ewan McGregor. 
Not turning a blind eye to the traumatic events that shaped him over 30 years before, adult Danny is a man who is trying to run away from his past but can't outrun the demons inside him. He's a mess, drinking himself to sleep and drifting across the country to find some peace and solace. And after years on the fringe, he has learnt how to bury his gift and live a quiet existence.
That is until he is drawn to a certain town where other people who share his gift are making noise. One of these individuals is a 12-year-old girl named Abra, with the ability to speak to Danny half a nation away.
And moving about the country in a collection of RVs, is a cult known as The Knot–gifted people in their own right, who prey on gifted children to steal their "steam" and stay young.
A story worlds away from the setting of the Overlook Hotel and just three characters secluded in the winter snow, Doctor Sleep presents a lot of ideas that it explores and finds a way to link them together into an overall arching plot both riveting and frightening. 
King doesn't usually write direct sequels to his works (with the exception of his Dark Tower and Mr. Mercedes series) as he tends to tell one-off stories. Doctor Sleep functions as a stand-alone tale and a respectful follow up to his earlier work. 
Of course the question on everyone's mind is no doubt, "Do we check back in to the Overlook Hotel?." Yes, and it's a build up to get there but a real treat.
It turns out that even though Danny and his mother escaped the clutches of Jack who was left behind frozen in the snow, the hotel's evil presence still lurks. It reaches out to Danny and torments him, and as hard as he's tried to forget that place, he will have to return to fight off the demons that stalk him and Abra and to battle his own internal demons. 
Our Rating
3.5/5 stars
Where Can You Watch Doctor Sleep?
Doctor Sleep is available to stream for "free" exclusively on HBO Max.
For a physical copy on Blu-Ray or DVD, you can find Doctor Sleep on Amazon and other major retailers. You can also rent it digitally on Amazon Prime.
Doctor Sleep Trailer
Conclusion: The Shining and Doctor Sleep
The Shining and Doctor Sleep are two unique films, but they share many overlapping qualities. Although Doctor Sleep doesn't quite measure up to the Stanley Kubrick masterpiece, The Shining, it's still a great Stephen King story.
While Doctor Sleep might not be a movie you'd watch again and again, like The Shining, watching The Shining and Doctor Sleep back to back is quite the rare treat. And one not possible until recently.
What did you think of The Shining and Doctor Sleep and have you watched the two back-to-back yet? Let us know in the comments below!