Even to a marshmallow, not all Veronica Mars episodes are created equal.
Marshmallow? Super fans of the TV show Veronica Mars. Due to the ongoing COVID-19 Pandemic and ensuing lockdown across much of the world, we revisited some of our favorite girl power shows to binge watch.
We were quickly reminded how much we loved the pint-sized blonde detective Veronica Mars, played to sarcastic perfection by Kristen Bell. Long before people kept telling her to let it go, for fork's sake.
Background
It's not just another show about a teen detective and her Scooby gang. As the theme song says, "A long time ago, we used to be friends."
That pretty much sums up the rampant class warfare that Veronica and her father Keith have to face after he's ousted from the sheriff's office and she becomes persona non grata with the popular kids she used to call friends.
The reason? The murder of Veronica Mars' best friend, Lilly Kane, which becomes the first mystery Veronica sets out to solve. It's also the ongoing season one mystery.
Then, there's also the fact that Veronica is simultaneously trying to solve her own personal mystery surrounding who roofied and raped her at a recent party.
You're either here because you've never watched V. Mars before, and we've got you curious, or because you need a reminder of the original TV run's awesomeness. Either way, let's dive in.
Why Did Veronica Mars Get Cancelled?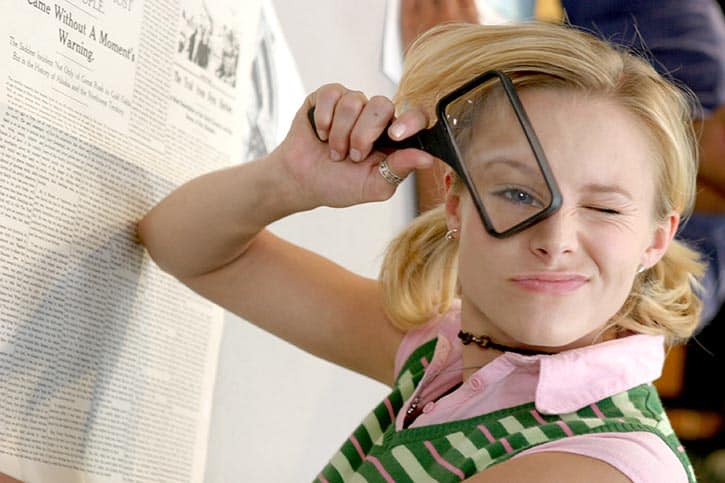 Veronica Mars went off the air in 2007 after four seasons. Crowdfunding brought it back for a 2014 movie. Hulu brought the show back for a single season, Veronica Mars: Season 4, but we don't like to talk about that.
So, why did the CW cancel Veronica Mars in the first place instead of letting the cult-hit high school murder mystery run its course?
Ratings
This is one of those undeniable contributors to the show's cancellation. No matter what critics or fans think, ratings are king in broadcast television.
It sat at about a 2.5 million viewership the entirety of its three-season run, according to Looper. Out of 156 total shows, the following were Veronica Mars' rankings in terms of that share.
Veronica Mars: Season 1 – 148th
Veronica Mars: Season 2 – 145th
Veronica Mars: Season 3 – 138th
Didn't Fit In
One possible secondary contributor? The show's niche appeal, especially compared to the niches the CW had in its sights.
CW was known for its teen soap operas and African-American-centric sitcoms. Shows like Smallville, Gilmore Girls, and One Tree Hill, as well as Girlfriends, The Game, and Everybody Hates Chris.
Veronica Mars broke the mold in more than one way. To start, it was a departure from most television at the time, and it certainly didn't fit into the programming for the CW. It may have been this that caused CW to pit it against the American Idol juggernaut, which assured its dismal ratings.
This is all a particularly disheartening factor, given the high school drama's thematic overtones, but such is life.
How Many Episodes Are in Each Season of Veronica Mars?
Counting Hulu's fourth season, Veronica Mars runs a total of 72 episodes.
Veronica Mars: Seasons 1-3 number a total of 64 episodes.
Here's the breakdown per season:
Veronica Mars: Season 1 – 22 episodes
Veronica Mars: Season 2 – 22 episodes
Veronica Mars: Season 3 – 20 episodes
Veronica Mars: Season 4 – 8 episodes
Will Veronica Mars Have a Season 5?
Hulu isn't planning on it.
Series creator and showrunner Rob Thomas confirmed that there had been no talks to bring the show back for another season.
Our 7 Favorite Veronica Mars Episodes of All Time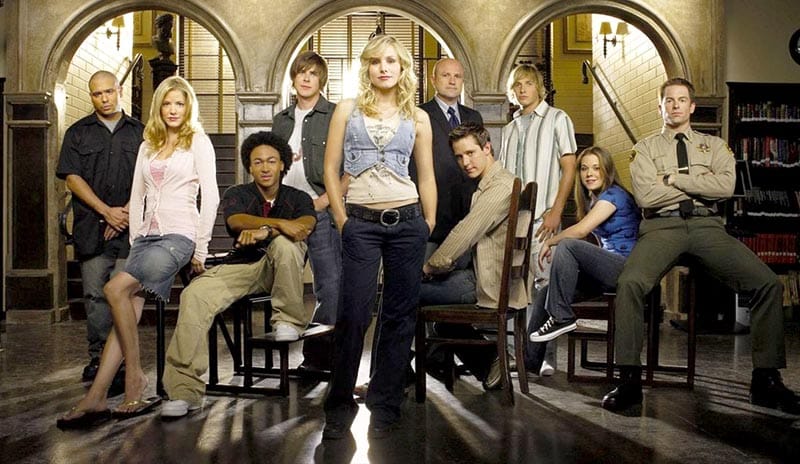 In no particular order (although number one is indeed our favorite), here are seven episodes of the Veronica Mars TV show that you need to watch.
We're going to try to keep it fairly spoiler free, but the show did come out in 2004 (*scoff*). In order to discuss an episode, we occasionally disclose some unavoidable spoilers.
So, if you haven't seen Veronica Mars and want to go into a binge watch completely unspoiled, you've been warned.
7) Veronica Mars: Season 3, Episode 20 – "The Bitch is Back"
A lot of marshmallows disliked Veronica Mars: Season 3.
Honestly, we struggled to fight through our dislike of Piz and enjoy the plot.
As the series finale of the original CW run, this episode is a return to the format that prevailed through Veronica Mars: Season 1 and Veronica Mars: Season 2. Instead of the mystery of the week style that had previously tried and failed in season three, the show sets up a hell of a mystery for Season 4, which sadly never came to fruition.
This Veronica Mars episode is a favorite of ours because it highlights the relationship that defines the show. The codependent and loving one that Veronica and her father Keith share.
Keith Mars is finally back in the sheriff's office, ready to be voted back in. But he throws it all away to cover up a crime that Veronica committed while she was investigating.
Their relationship has had it's ups and downs but in the end, it really shows that Keith and Veronica will do anything for each other.
6) Veronica Mars: Season 1, Episode 21 – "A Trip to the Dentist"
This is one of the end episodes in Veronica Mars: Season 1, and there's a lot going on in here.
Veronica finds out the answers to one of the biggest personal mysteries in her life. Through a series of flashbacks, she's able to find out why she was drugged and who raped her.
One of the worst nights of her life all boils down to a bunch of rich kids playing around with drugs. No one protected her, because she wasn't one of them anymore.
It's a tragic story that can feel all to familiar.
And to add insult to injury, she finds out the reason why Duncan Kane ended their relationship and ghosted her.
The episode is well written and handles the subject matter very maturely. The episode itself is all about perspective.
Veronica has no memory of the night of the party and sets out to piece together the events from classmates to find her answers.
To her credit, even when she finds out things she doesn't like, she never gives up.
5) Veronica Mars: Season 1, Episode 1 – "Pilot"
Pilot episodes can be pretty iffy. They've got to deliver a plot, show you around a new area, and make you care about completely unfamiliar characters.
In the first episode of Veronica Mars, we're introduced to the 09ers. They're the affluent kids of movie stars, rock stars, and/or just the really rich class living in the 90909 zip code.
Then, there's the rest of the town of Neptune, California.
Veronica hails from the bad side of town. But she used to be popular, despite her address, due to her friendship with Lilly Kane and romantic relationship with Duncan.
It all goes downhill when Veronica Mars' best friend, Lilly, is murdered and Sheriff Keith Mars accuses Lilly's father.
Veronica's former friends turn against her when she sides with her dad. The pilot sets up the murder of Lilly Kane as the driving force that keeps Veronica going when her life turns upside down.
Her dad gets removed from his position, so they have to move to a more affordable place. Veronica's mom leaves. Her boyfriend inexplicably breaks up with her. All of her friends turn against her.
The episode does a great job of making us root for Veronica and hope that those 09ers get their comeuppance.
4) Veronica Mars: Season 1, Episode 10 – "An Echolls' Family Christmas"
This is one of the more self-contained episodes of the first season, but the emphasis on class differences makes it one of the more interesting ones.
It's pretty simple. The 09ers invited local biker gang leader Weevil Navarro to have a seat at their poker table. Weevil wins big, but someone steals the money.
After blaming everyone and a hilarious scene where Weevil makes everyone strip down, Veronica is called in to solve the crime.
Which, naturally she does.
She then takes the thief's seat at the table where you can visibly see Logan softening his stance against Veronica. And of course Logan's great one-liners never disappoint.
3) Veronica Mars: Season 2, Episode 11 – "Donut Run"
We'll admit, we were glad to see Duncan go.
In this episode, Duncan makes his way out of town with his kid, which he stole from her abusive grandparents.
It's probably the most exciting Duncan has ever been. This episode gives him a chance to figure out who he is. He's not just the rich kid with epilepsy-induced blackouts and mood swings.
After the revelations about his sister Lilly's murder from season one, and the fact that just about everyone preferred Logan as Veronica's paramour, there wasn't a lot for his character left to do.
Duncan spent most of his run on the show just existing, so it was nice to see him take charge for once and ride off into the sunset having rescued his daughter.
2) Veronica Mars: Season 2, Episode 20 – "Look Who's Stalking"
This episode sets the stage for the beginning of the end of season two.
It delves into just what Woody Goodman has been up to with the kids on his baseball team. Veronica finds out that she has an STD, and she has no idea who could have given it to her. The incorporation of Neptune fails. Veronica rescues Gia Goodman from a stalker. And Logan gets drunk and gives Veronica the most epic speech ever.
There's a callback to it in the movie, which is just about the dumbest thing ever, but while he's tearing up and speaking to her, leaning in for the kiss, it's just beautiful.
Of course, Veronica, being Veronica, has to leave right at that moment. But she shows up at the Neptune Grand to tell Logan she wants to try again, just to see he slept with someone else the previous night.
This episode is really great about setting up the ending of Veronica Mars: Season 2. Even if it is light on mystery, it delivers on questions.
1) Veronica Mars: Season 1, Episode 18 – "Weapons of Class Destruction"
This episode is one of our favorites, mostly because the tension that's been building between Logan and Veronica finally gets resolved.
Plus, it has a great message about the importance of a free and unbiased press.
The episode is focused more on the mystery of the week and less to do with the Kane murders.
Veronica also gets to flex her investigative muscles for the Neptune High newspaper, investigating suspicious fire drills and the words KillEmAll.net carved around school.
While investigating a student loading large amounts of fertilizer in his trunk, Veronica is caught following him. As a result, he forces her to drive to the Camelot Motel.
Logan, who had conveniently been on the phone, rides to her rescue before discovering that the student is actually an ATF agent investigating another student.
It's Veronica Mars, so naturally it's not as straight forward as that.
Despite Principal Clemmons leaning on her and the newspaper adviser telling her to squash it, Veronica solves another crime, publishes the story, and saves the day.
Where Can I Find Episodes of Veronica Mars?
Hulu streams all episodes of Veronica Mars. So, for those of you who already subscribe to the (other) Disney-owned streaming service, you're in luck.
But if you're more of an Amazon fan, they have the seasons ready to rent per episode over Amazon Prime Video. Plus, they have both a set of Veronica Mars: Season 1-3 and a set that includes Veronica Mars: Season 1-3 + Movie.
Final Thoughts
That wraps up our our seven favorite Veronica Mars episodes.
Again they aren't in any particular order, except the first one is a favorite, because we're all about the #LoVE.
How'd we do? Head to the comments to tell us your favorite episode of Veronica Mars, and let us know what you think of (the conveniently not mentioned *ahem*) Veronica Mars: Season 4.