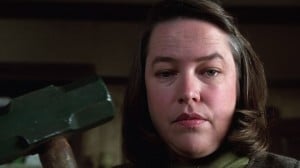 Looks like American Horror Story Season Three will star Kathy Bates in the role of villain.
TVLine.com broke the news in an exclusive story.
Other tidbits include Jessica Lange playing a "glamour cat leading lady," and the season generally having a lighter tone than Asylum. The third season will also jump time periods, like season one, but also be based in modern day.
Bates is to play Lange's best friend, who turns bad.
In general, I'm happy with the news. Kathy Bates is, like Lange, a brilliant actor who Hollywood has somewhat forgotten. She's not gotten juicy roles lately, and she's more than capable. She did win an Oscar, after all. Pitting her against Lange sounds like magic.
Also, the theme of the show has been revealed in a general sense. It's supposed to be more "historical" in nature. I would take this to mean more distant than the 20th century. Maybe we'll be venturing into magic a wee bit.
The show thus far has locked seasons into separate genres of horror. The first season was ghosts, hauntings, etc. The second was abduction, somewhat. You had aliens, police, mad doctors, serial killers, and so forth all holding people against their will.
I think the third season could easily be more a modern day witch story. You could flashback to Salem and the like. That would give you your different cities. Maybe Lange has some secret power inside her, but she decides to ignore it while her friend explores it more and more. You could have a story in the past telling a similar tale: a witch tried and burned at the stake while her friend chooses to slip into the night, to live a human life.
Either way, with the usual cast returning, and with the addition of Bates, I'm getting quite excited for American Horror Story season three.