The best buddy cop movies are, at their core, great action movies. In this article, we'll take a look at the best buddy cop movies ever.
The action genre will always remain one of the most popular forms of entertainment. Because there are few better ways to kick back and relax than indulging in the sort of escapism that can only be provided by a succession of fist fights, car chases, explosions and shoot-outs.
Action movies are also incredibly malleable and versatile. Creators can tailor them to fit almost anything from sci-fi epics and gritty thrillers to hilarious comedies. And they can take place during any era from the distant past to the far-flung reaches of the future.
One of the most popular offshoots is the buddy cop movie. The sub-genre shot to prominence in the 1980s and remains an always welcome staple of the genre to this day. The last four decades featured plenty of all-time greats. We've done our best to narrow it down to 10 of the very finest buddy cop movies ever. Of course, taste is entirely subjective. If you don't agree with us, let us know in the comments.
What Is The Buddy Cop Genre?
Crime movies starring a police officer, or other steward of the law, on a mission have always been popular. And well, two is better than one, right? Besides, police often run in partnered pairs, so having two leads works perfectly for a variety of reasons.
That is the basic formula, but there are many, many variations. Often times, the two character play off each other with different personalities, backgrounds, and methods. Alongside this, the buddy cop genre comes with its own set of buddy cop tropes. Many of which have been much lampooned in pop culture.
Honorable Mentions
We think we picked the 10 best buddy cop movies ever. Maybe. Yet, we know there are other films that are right up there as close runner-ups. Before we get to the main list, here's a look at some of the ones we passed up.
Beverly Hills Cop (1984)
Besides Eddie Murphy, there are a number of other cops in Beverly Hills Cop (1984). The other police officer characters are, sometimes, pretty friendly with Eddie Murphy. However, it's not the quintessential buddy cop formula. They do work together and some scenes are right out of the buddy cop playbook. Still, it's still very much a one-man show for Eddie Murphy.
Watch on Amazon: Beverly Hills Cop (1984)
End of Watch (2012)
This David Ayer-directed drama is gritty, grounded, and definitely not meant for laughs (unlike many films on our list). Nonetheless, Jake Gyllenhaal and Michael Peña turn this realistic look at ordinary cops trying to survive into a great film. While End of Watch (2012) didn't make the list, it has our respect.
Watch on Amazon: End of Watch (2012)
Miami Vice (2006)
Now, is Miami Vice (2006) good? Not exactly. But boy is it pretty. Michael Mann's adaptation of the 80s TV show, starring Jamie Foxx and Colin Farrell, is a feast for the eyes. Not enough as a film to put it on the list, but it deserves a mention.
Watch on Amazon: Miami Vice (2006)
The Fast and The Furious (2001)
The Fast and Furious franchise started with the David Ayer-penned The Fast and The Furious (2001). Was it a masterpiece of drama? No. But it was action packed, fun, and a hell of a watch. Vin Diesel, Paul Walker, and NOS all became big stars as a result.
Watch on Amazon: The Fast and The Furious (2001)
In the Heat of the Night (1967)
In the Heat of the Night (1967) is a film that deals with racism. But that central theme gets wrapped in a crime drama that's wrapped in a buddy cop film. Director Norman Jewison and one half of the leads, Rod Steiger, do an honorable job. However, it's Sidney Poitier that raises the bar with his elegant performance.
Watch on Amazon: In the Heat of the Night (1967)
Turner & Hooch (1989)
Tom Hanks and a dog star in this buddy cop film. It really does qualify as a buddy cop genre film, too. Because the pooch named Hooch is actually a member of the K-9 unit. So, they're both legit cops, and they definitely go through the usual tropes. Turner & Hooch (1989) is mostly on this list of mentions for its laughs. Plus, it's the only man-meets-beast pairing that made even our honorable mentions.
Watch on Amazon: Turner & Hooch (1989)
The Rock (1996)
This comparatively subdued Michael Bay film harnessed the star power of two action movie icons, Sean Connery and Nicholas Cage. Or really, The Rock (1996) passed the baton from one to the other. Although trope-y with its cop-teams-up-with-a-convict premise, it's good old fashioned fun on a very cinematic scale.
Watch on Amazon: The Rock (1996)
Running Scared (1986)
The chemistry between Billy Crystal and Gregory Hines is pretty much the sole reason this made the honorable mentions list. Running Scared (1986) isn't an absolute train wreck. High praise, right? But in its mediocrity, it just doesn't measure up to the other films on this list. Still, we could watch Billy Crystal and Gregory Hines together for days… within another movie.
Watch on Amazon: Running Scared (1986)
Rush Hour (1998)
Rush Hour (1998) pairs Chris Tucker and Jackie Chan to great effect. The entire Rush Hour series utilizes the "different worlds" trope to hilarious ends. We have Chris Tucker as the urban detective and Jackie Chan as the fish out of water. Great action and lots of laughs ensue. The Brett Ratner-directed movie is worth a watch for Jackie Chan alone. But it just barely missed the cut for us.
Watch on Amazon: Rush Hour (1998)
Seven (1995)
We've seen it before. The older, jaded detective (Morgan Freeman) pairs up with the young force of nature (Brad Pitt). But David Fincher turns all of that on its head with Seven (1995). Not only is the movie chock full of uncomfortable, grotesque visuals, it subverts tropes. In particular, the dynamic between the top police officers twist in an unprecedented way.
Watch on Amazon: Seven (1995)
Stakeout (1987)
Who knew a stakeout could be funny? And with Emilio Estevez, no less… Cheap shots aside, the pairing of a top-of-his-silver-fox-prime Richard Dreyfuss and a young, rising comedic star like Emilio Estevez works extremely well. Before you ask, there's no way in the world we'd ever count its horrid sequel with Rosie O'Donnell, Another Stakeout (1993), as even an honorable mention.
Watch on Amazon: Stakeout (1987)
Stray Dog (1949)
Akira Kurosawa is hard to beat, and Stray Dog (1949) is a great film. Arguably, it was the start of buddy cop cinema. It comes replete with tons of tropes that at the time were new and novel. But its dated nature, and the practice-makes-perfect nature of later buddy cop movies, make it only an honorable mention.
Watch on Amazon: Stray Dog (1949)
Supercop (1992)
Originally Police Story 3, this third installment of the Jackie Chan series Police Story got the new name Supercop (1992) for its stateside port. The previous films in the series mainly showcase Jackie Chan. Not that we're complaining. However, this installment brought in the equally brilliant Michelle Yeoh (credited as Michelle Khan). It breathed a new life into the series, adding a new dimension.
Watch on Amazon: Supercop (1992)
Tango & Cash (1989)
Tango & Cash (1989) is not that good of a movie. But it does fit the bill of a buddy cop movie almost a little too perfectly. Admittedly, the 80s star power of Sylvester Stallone and Kurt Russell have a way of pulling the film across the finish line by sheer magnetism. However, we wouldn't count it as anything other than a worthy relic of the genre's indulgence of tropes.
Watch on Amazon: Tango & Cash (1989)
The French Connection (1971)
Although the car chases stand out the most in everyone's memories, the William Friedkin film turns in some great performances by Gene Hackman as Popeye Doyle and Roy Scheider as Cloudy Russo. The French Connection (1971) often tops people's lists of best buddy cop films and ranks highly for any list of crime dramas. Yet, we found it just a tad too light on everything but burning rubber.
Watch on Amazon: The French Connection (1971)
The Guard (2011)
This Irish action-comedy flew under the radar in the states. But Don Cheadle and Brendan Gleeson, together with writer-director John Michael McDonagh, turn in a laugh-filled barn burner with a great script. While it didn't make the list, we highly recommend The Guard (2011).
Watch on Amazon: The Guard (2011)
The Heat (2013)
Paul Feig, God love 'im, keeps trying to pull off the action-comedy. The Heat (2013) is possibly the closest he's come to success. Mainly by harnessing the raw star power of Melissa McCarthy and Sandra Bullock. Still, even with the two ladies pulling the film over the finish line of funny, the movie just didn't resonate with audiences beyond its modestly enjoyable runtime.
Watch on Amazon: The Heat (2013)
The Last Boy Scout (1991)
Not particularly a fine work of art, The Last Boy Scout (1991) nevertheless deserves an honorable mention. For one, its Shane Black script earned a then-record $1.75 million. All for depicting two fairly unlikable leads, Bruce Willis and Damon Wayans, who make their way through a gross underworld. Director Tony Scott and the aforementioned Shane Black have since redeemed themselves more than enough. Yet, the film still leaves a bad taste in our mouth. Regardless, it's a remarkable turning point in the buddy cop genre.
Watch on Amazon: The Last Boy Scout (1991)
The Other Guys (2010)
Mark Wahlberg and Will Ferrell instantly feel like a mismatch. But the fact that the entire movie is about them being a mismatch for typical action heroes is so meta that it garners crazy amounts of respect from us. Although the Adam McKay film didn't quite land with audience or the box office, The Other Guys (2010) is worth a watch for its sheer fun factor.
Watch on Amazon: The Other Guys (2010)
Training Day (2001)
Training Day (2001) deserves an honorable mention because it's not at all a buddy cop movie, yet it certainly tricks you into thinking so. Denzel Washington turns in an amazing, scene chewing performance that is about as monumental as, well… King Kong. Meanwhile, Ethan Hawke plays the part of a good cop convincingly enough to stay out of Denzel Washington's way.
Watch on Amazon: Training Day (2001)
10 Best Buddy Cop Movies Ever (Ranked)
Fair warning: if you're a buddy cop movies aficionado, or even just a film buff, this list may anger you. Two film fans almost never have the same exact lists.
So, don't say we didn't warn you. Good news is that we'd love to hear your lists. Just drop them in the comments down below this article.
Enough waiting, let's jump right into the list. We hope you enjoy these picks for best buddy cop movies ever.
The List: At a Glance
Hot Fuzz
21 Jump Street
Bad Boys
The Nice Guys
Die Hard with a Vengeance
48 Hrs.
Kiss Kiss Bang Bang
Men in Black
The Killer
Lethal Weapon
10. Hot Fuzz (2007)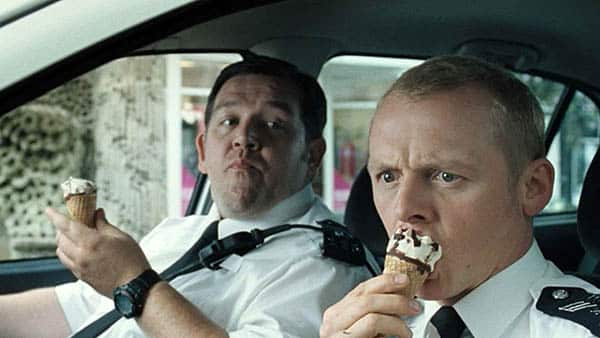 Not all buddy cop films have to take themselves seriously.
Point in fact, the middle chapter of the Edgar Wright masterpiece Three Flavors Cornetto trilogy. Hot Fuzz (2007) is the perfect example of how to poke fun at a genre. While simultaneously wearing clear admiration for it on your sleeve. It doesn't hurt to have Simon Pegg and Nick Frost as the buddy cops Nicholas Angel (Simon Pegg) and Danny Butterman (Nick Frost), either.
It's the norm for an action comedy to aim for the easiest targets to generate laughs, but Hot Fuzz (2007) relies on the strength of the concept rather than laughing at the ridiculousness of the scenario. The end result: a Hollywood-style blockbuster buddy cop action-comedy movie set in a sleepy English village.
One played entirely straight, and it winds up all the better for it.
9. 21 Jump Street (2012)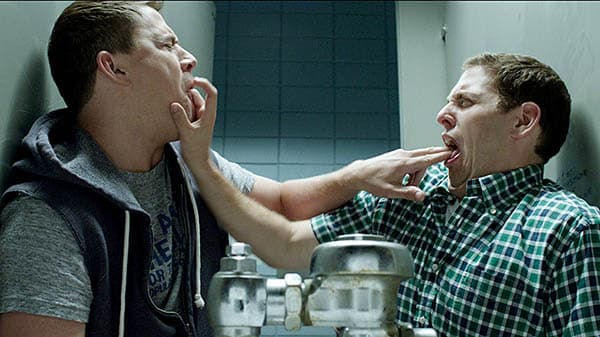 The creative team behind 21 Jump Street (2012) knew prospective movie-goers rolled their eyes at the thought of yet another 1980s reboot.
In fact, directors Phil Lord and Christopher Miller banked on that expectation. Thus, they crafted the most meta and self-aware buddy cop movie ever made. The casting of Jonah Hill and Channing Tatum as a mismatched police officer pair sent back to high school undercover cinched the film's iconic success.
No cliché is off-limits in this cop comedy set in high school. The movie exposes the tropes of the subgenre thanks to some whip-smart dialogue, a satirical look at the current fascination with all things nostalgia-related, and no shortage of laugh out loud moments.
The humor is aided heartily by comedy-alum Jonah Hill. It does all of this without forgetting that the action sequences themselves are the bread and butter of any decent cop movie, of which Channing Tatum delivers in spades.
Fourth wall-breaking movies are very difficult to get right, but 21 Jump Street made it look all too easy.
8. Bad Boys (1995)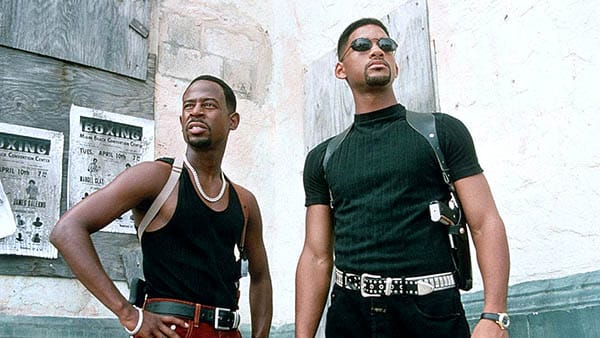 When Bad Boys (1995) hit theaters in 1995, people knew Michael Bay best for directing commercials.
Both Martin Lawrence and Will Smith were the stars of TV sitcoms with no experience at all in playing action heroes. Will Smith, in particular, was in danger of overreaching into yet another milieu, after finding success in rap and comedy television. By the time the credits for Bad Boys rolled, all three would see their careers changed forever.
Bad Boys remains one of Bay's two best movies. Alongside The Rock a quarter of a century later. Because the filmmaker had not yet descended into self-parody.
Instead, his signature camera movements and explosive set pieces were fresh and exciting. Not ludicrous and overblown. Meanwhile, Will Smith put the world on notice that his sitcom days were over. Hollywood had found it's newest megastar. As a decent runner-up, Martin Lawrence expertly served up the extra dose of laughs that the movie needed.
The success, both in fan and box office approval, continued in the sequels that followed: Bad Boys 2 and Bad Boys for Life.
7. The Nice Guys (2016)
The overwhelming majority of buddy cop duos feature at least one character competent at their job.
But the Shane Black buddy cop film The Nice Guys (2016) turns that idea on its head. Both of the leads (Ryan Gosling and Russell Crowe) are clearly ill-equipped to deal with unravelling the conspiracy they've haphazardly stumbled into.
It's a travesty that The Nice Guys bombed at the box office and remains a hidden gem, because it continues Black's trend of turning straightforward setups on their head. It always managed to put fresh spins on an archetypal narrative. All while making sure the laughs come directly from the situations the heroes find themselves in instead of always relying on one-liners.
The end result is a sparkling throwback to the glory days of the buddy action comedy.
6. Die Hard with a Vengeance (1995)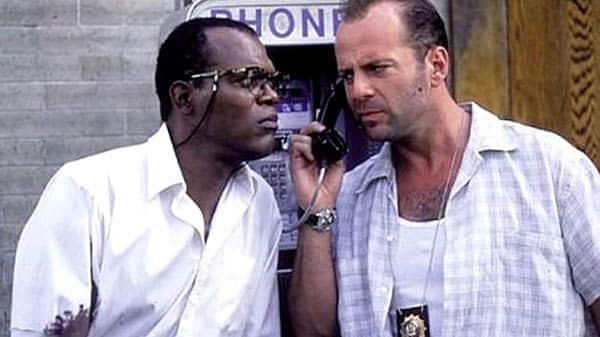 Die Hard (1995) is often considered the greatest action movie ever made.
Knowing full well that it had no chance of topping it, the first sequel (Die Hard 2) simply did the exact same thing all over again, except set it in an airport. Whoever came up with the idea of pairing Bruce Willis' John McClane with Samuel L. Jackson and turning Die Hard into a buddy cop genre movie deserved a huge raise, because without freshening up the formula the franchise would have been in real danger of going stale.
Director John McTiernan also makes a welcome return. In doing so, he proves that he hadn't lost his Midas touch that had seen him craft several of the finest action movies of the previous decade.
The villain is a little on the weak side. But nobody can ever top Hans Gruber, and the Die Hard sequels never really tried to either.
Nonetheless, Die Hard with a Vengeance is far and away the second best installment in the series, if for Samuel L. Jackson alone.
Based on the quality of the most recent two, it would have marked a fantastic swansong.
5. 48 Hrs. (1982)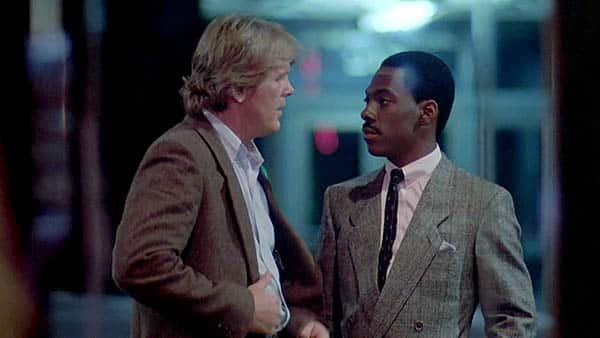 Some of the dialogue thrown back and forth between characters might not sit too well with more sensitive viewers these days.
Still, 48 Hrs. (1982) remains a landmark in action cinema that went a long way to popularizing the buddy movie. Arguably, the Walter Hill-directed classic is directly responsible for launching the subgenre. A subgenre that remains as popular as ever almost 40 years later.
In his feature film debut, the sheer charisma and star power of Eddie Murphy blows everyone and everything else off the screen. This film confirmed that the young comedian deserved to rocket straight to the top of the Hollywood A-list.
Meanwhile the gruff demeanor and constantly frazzled presence of Nick Nolte perfectly suits the character of Jack Cates. He plays a beleaguered straight man forced to partner with a fast-talking loose cannon in order to get the job done.
Art may have been imitating life here, but we don't mind.
4. Kiss Kiss Bang Bang (2005)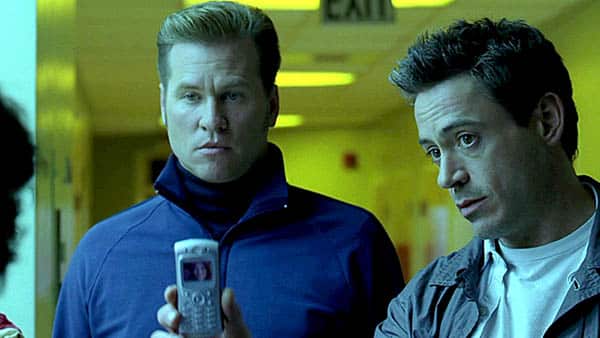 Another overlooked gem from Shane Black, Kiss Kiss Bang Bang (2005) arrived at a time when Robert Downey Jr. was still in the early stages of hitting the comeback trail.
Thankfully, he found a script tailored to his motor-mouthed sardonic style. Similarly, almost complementarily, the plot of Kiss Kiss Bang Bang often ties itself in knots to get to the point.
With anyone other than Robert Downey Jr. and Val Kilmer in the lead roles, the smart-mouth script and sense that the characters are in on the joke could have come off as painfully self-indulgent in lesser hands.
However, Kiss Kiss Bang Bang deftly balances elements of the crime, thriller, comedy, noir and buddy cop genres to create a wholly unique but deliriously entertaining Frankenstein's monster. One of influences and references packed with scattershot jet-black humor.
And of course, so many witty one-liners it's almost impossible to catch them all on the first viewing.
3. Men in Black (1997)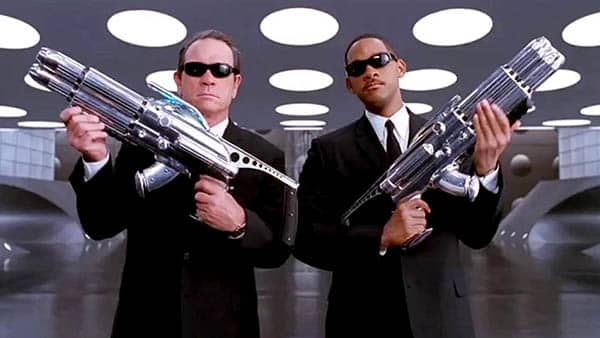 Men in Black (1997) only runs for a breezy and economical 98 minutes.
But that's more than enough time to elevate itself into the pantheons of buddy movie history. Regardless, director Barry Sonnenfeld makes every single second count. Will Smith and Tommy Lee Jones seemed like an odd pairing on paper. But after their first showing, audiences swiftly proclaimed it a stroke of genius.
The grizzled, nonplussed attitude of Tommy Lee Jones is a perfect paddle for Will Smith's kinetic, bouncing ball energy.
The performances, script, practical effects, CGI and action-packed set pieces in Men in Black are all of the highest quality. Plus, the story is constantly propelling itself forward and gathering momentum.
And all of these elements combine in a near-perfect storm of unabashedly populist high concept entertainment to create what comfortably ranks as one of the most purely enjoyable summer blockbusters of the last 25 years.
2. The Killer (1989)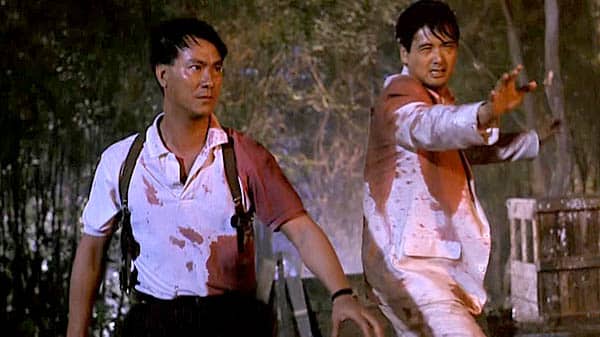 There's no rule that says both leads in a buddy cop movie have to be on the side of law enforcement.
The Killer (1989) uses that caveat to incredible effect when a by-the-book police officer and hitman join forces to take down a Triad boss. The setup borders on cliché, but the execution is impeccable.
Quentin Tarantino and Robert Rodriguez have admitted their work is heavily influenced by John Woo's action classic, which saw the director hone his preferred method of heavily stylized action, slow-motion shoot-outs and copious amounts of gunfire to blistering effect.
The extended climax set in a church is one of the greatest extended set pieces ever committed to film. And yes, there are doves.
1. Lethal Weapon (1987)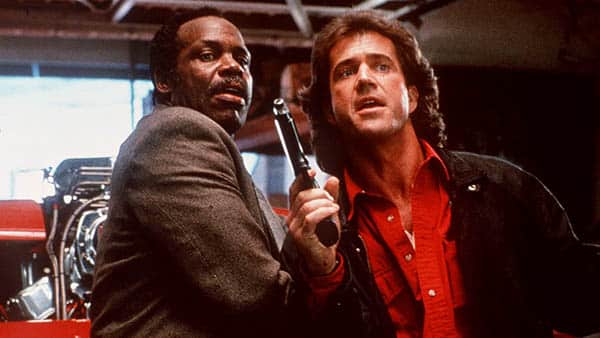 Lethal Weapon (1987) may not have originated the buddy cop movie, but it definitely perfected the formula of action, thrills and laughs in what remains the benchmark against which all subsequent entries in the genre are compared.
Not to mention launching the career of Mel Gibson into the stratosphere. If it's not the absolute best action film, it's certainly one of the best action films of all time.
The first installment of the Lethal Weapon franchise has a much harder edge than the three sequels (Lethal Weapon 2, Lethal Weapon 3, and Lethal Weapon 4) that would follow but never veers to far into the darkness, which allows the strength of the script and performances to shine through.
The sparkling chemistry between Mel Gibson and Danny Glover instantly established Riggs and Murtaugh as one of action cinema's finest double acts.
Lethal Weapon isn't just the best buddy cop movie ever. It would redefine and inspire the entire genre for the next decade.
Conclusion: What's Your Favorite Buddy Cop Film?
Even if they weren't buddy cop films, all of the movies mentioned here would be excellent action comedy selections. But enough from us. What do you think? Let us know your opinions in the comments below!