The Syfy original reality series returns. Face Off season 4 begins tonight (Jan. 15) at 9 p.m. ET/PT.
Now, before I dive into why this excites me and should excite you, let me clarify why I'm talking about a reality show on a blog about fiction. Well, I've mentioned in the official Fictionphile manifesto how science fiction is nearly dead center in my sphere of interests right now. To put it short, it's where ideas and characters are free to be heroic and bigger than life. When it comes to the moving pictures side of science fiction make-up and visual effects are 99.9 percent essential. There. Explanation accomplished.
Early reviews for the make-up contest show say it showcases some of the series' best final looks. I sighed, relieved, at hearing this because I increasingly became enraged at spending an hour watching a show only to see five make-ups where every person seemed dipped in plastic. With the exception of an unlikely (but wouldn't that be cool) comic book hero challenge where someone chooses the little known Plastic Man, that's not a compliment. Still, even with some misses, the few hits Face Off produces are worth the time investment.
I, like most men (and many women), grew up watching Star Wars, Alien(s), Star Trek, and more. These shows needed make-up to pull the concepts off, and when they did it well it was like seeing a piece of imagination incarnate. That feeling is hard to come by nowadays, as most everything is just a rehash of the above-mentioned cult hits or CGI. Computer graphics look fake. They do. You may scream "Avatar," but that movie took years to make and everything computer-generated still looked incredibly, laughably fake whenever something real entered the frame next to it. Make-up is where it's at. And Face Off manages to take back a little of the thunder that James Cameron has stolen. But the stuff has to be good. And if the folks behind Face Off hopes to spread this message in season 4 to anyone besides me and my nerd brethren, who will sit through a plethora of sludge in order to see some gold, the stuff has to be CONSISTENTLY good.
Well, there's some hope for this. It comes by way of season 4's new addition to the Face Off format, though it has become a standard for most successful competition shows: the mentor.
From a SyFy press release:
"Joining the series as the official contestant mentor is world-renowned Hollywood makeup artist, Michael Westmore. Westmore is a member of a makeup dynasty that dates back to Hollywood's golden age. Westmore has earned a record 42 Emmy nominations and nine wins. The Motion Picture Academy has honored him with four nominations and the Oscar in 1986 for his artistry on the film Mask starring Cher and Eric Stoltz. In addition, Westmore supervised 18 years of Star Trek. He is also the proud father of Face Off host, McKenzie Westmore."
I assume you don't keep a file of famous make-ups and the people who created them, so I'll save you the Google time. The new Face Off mentor is probably most known for creating the design for Star Trek's alien species the Cardassians and Ferengi. Not impressed? Don't know who they are? How about he created Data? Yeah. Figured that'd get your attention. He also brought the Klingons into the realm of respectability.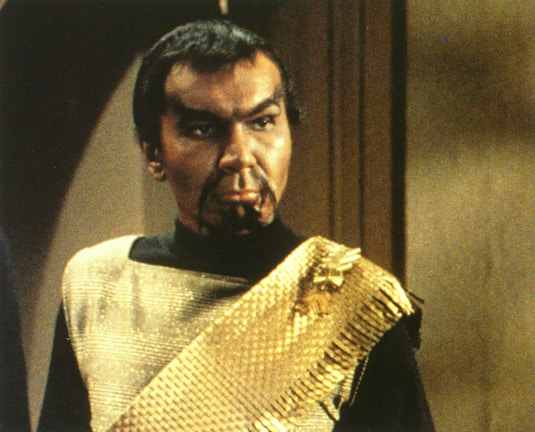 This addition, if nothing else, should convince you to watch Face Off or return to it if you had given up interest. Oh, and he also did make-up for Raging Bull and The Munsters. Oh, and the CIA had him develop kits for their operatives. Y'know, small potatoes.
As usual, Face Off's judges will be Ve Neill, Glenn Hetrick (including his creepy hair), and Neville Page.
Guest judges confirmed include Bryan Singer, Gale Anne Hurd, John Landau, Michael Nankin, and John Rhys-Davies. Challenge themes will include fantasy goblin kings, original comic book superheroes (come on Plastic Man…), candy creatures, two-headed giants inspired by Bryan Singers' Jack the Giant Killer, Avatar-inspired bioluminescent sea creatures (ugh), and zombies.