The Walking Dead showrunner will be replaced for the start of the fourth season by Scott Gimple. Glen Mazzara, who took control midway through season two, won't be missed by fictionphile.com.
Mazzara was best known for his work on The Shield prior to becoming The Walking Dead showrunner. The Hollywood Reporter, which broke the story, said the PR line was "creative differences." But inside rumors pointed to disagreements with show creator Robert Kirkman, who also created the comic book the show is based on. Many have come to Mazzara's aid, including Shawn Ryan (Last Resort) and Kurt Sutter (Sons of Anarchy), in the form of pretty hateful tweets. One gem, from Sutter, snidely remarked that AMC sent him a gift basket filled with "broken promises and the marinated tongue used to lick Kirkman's ass." How charming. These respected showrunners have oddly been up in arms over some misguided view that this shows AMC does not respect creative control.
Kirkman built this boat and he's the captain. Any proponents of creative control should respect that. Sure, he's not used to TV, and that's why there are "showrunners," who are supposed to serve as not only the writers' room leader but also as the nuts and bolts organizer who keeps the show running smoothly. Well, by all reports Mazzara dropped the ball on that, leading to significant delays due to lack of script material. So, if he's bad at that, he should have made up for it with great, visionary ideas.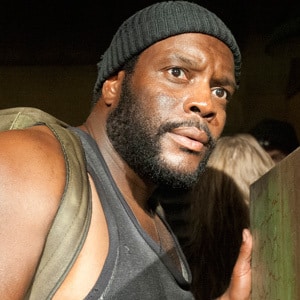 But anyone who watched him stumble through explaining character motivations on the show's companion talk show, Talking Dead, can tell you he had no idea what he was talking about. He seemed much more interested in making the TV version of The Walking Dead instead of telling a story that was good to begin with. It's hard to pinpoint where directions in writing went wrong in television, what with huge staffs of writers coming and going, but The Walking Dead started to falter around the midpoint of season two — when Mazzara took over Walking Dead showrunner duties. It was too slow, turning into a zombie version of Green Acres, where our heroes were adjusting to a quiet farm life with a few zombie nuisances.
[SOME POSSIBLE SPOILERS AHEAD]
Anyone who enjoyed the third season's first half has the comic book to thank, not Mazzara. It's a return to the source material's commitment to a fast pace. In the comics, characters don't ever have time to settle. They know their clock is ticking and that the world is different. Death comes easy. Stars are slain left and right, but no one has the chance to mourn. It's what leads Rick to snap, envisioning his dead wife calling on a disconnected phone, which is something the TV show somewhat bumbled. In the comics, it comes after a much more straightforward murder by The Governor. Rick has to abandon Lori's body, which holds the crushed body of their newborn, in order to save Carl. Then, later, when the two are trying to survive as a duo, he hears the phone ring in an abandoned house — MUCH better than the "he snapped that easily?" version from the show.
So, if Kirkman was or wasn't behind Mazzara's ousting, he'd be justified. It's him that viewers and readers have grown attached to. Everything else has been boring or rehashes of typical TV.
Now, this Gimple fellow doesn't have a great pedigree, and it's unclear that the replacement will be an improvement. Besides being Mazzara's number two, which doesn't bode well, his biggest acclaim is writing the Ghost Rider: Spirit of Vengeance script. Ouch. Well, one can only hope this means Kirkman will have more control by default.
Besides the news of Mazzara's leaving, which should give some fans reason to cheer, a third trailer for the Feb. 10 episode "The Suicide King" has been released. See it below:
Look for a full preview of the show's return soon.