With the way the world is today, people are being tested.
Much has been asked of us amidst this COVID-19 crisis, and it's completely unprecedented. Most of us believed something like this could happen one day. But now that it has, we're still in unchartered territory.
Whether it's the impact on health, the downfall of the economy, or the trials and tribulations of social isolation and lockdown, everyone is going through this global pandemic in their own way. 
Need for Escape
You could even compare life at the moment to something of a prison sentence. It's not of course. But the restrictions, limitations, and sacrifices we've been forced to make come close enough for some people.
Especially those directly affected by this virus, who are lying in hospital beds, quarantined for fourteen days either in some hotel just miles from their own home, or in a foreign country and alone.
Wherever you are and whoever you are, you've got your own thoughts and feelings about the Coronavirus Pandemic. And it's in these times, many of us turn to the movies or television for comfort and escape.
So what better time to review one of the most loved and revered films of all time. A movie, upon its initial release, that didn't take the world by storm. However, The Shawshank Redemption (1994) went on to garner a worldwide fan base that has spanned generations.
The Shawshank Redemption: A Life Behind Bars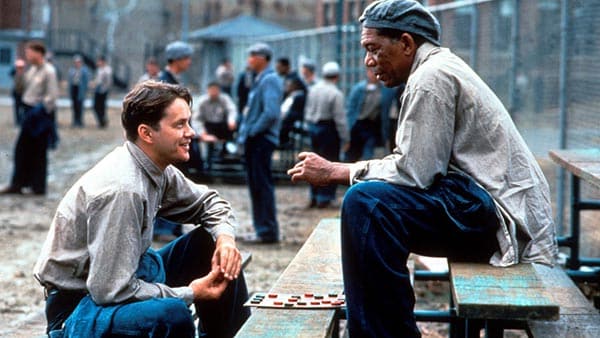 Its central theme of hope is perhaps more relevant to moviegoers now than ever before. It's in The Shawshank Redemption where you can get up and close and personal with characters in prison; how they survive, how they grow and how they break free in their own way. 
You know the story. Who doesn't? It's the 1940s, and young banker Andy Dufresne (Tim Robbins) is sentenced to life in prison for the double murder of his wife and her secret lover. Claiming his innocence all the way, the evidence is indisputable, and Andy is sent away to Maine's Shawshank Prison.
It's a cold, grey, and imposing place, where men line up to be put behind bars with little to no chance of ever breathing free air again.
Friendship During Life's Lows
Keeping quiet and to himself to begin with, Andy is not your usual prisoner. Wandering the yard collecting stones and staring up at the sky in deep thought, he soon catches the eye of a fellow prisoner, Red (Morgan Freeman).
Over a number of years and conversations, Andy and Red become friends. As their relationship grows, each man bestows something onto the other. Red, already serving twenty years of a life sentence himself, teaches Andy about life behind the prison walls. Andy, fresh from the world and still claiming his innocence, teaches Red about books, music, and hope.
Thick as thieves but different in every way, this unlikely friendship spans twenty years and several key moments that will test the patience and endurance of each man, as life in Shawshank changes under the stern rule of the corrupt prison warden and his guards.
Rita Hayworth and The Shawshank Redemption
Keeping in mind many of you reading this may have never seen the film or read the novella by Stephen King (Rita Hayworth and The Shawshank Redemption), I won't spoil it for you.
But if you're looking for a film that will touch on every human emotion, make you think about your purpose in life, and restore your faith and hope in humanity, look no further.
I imagine during this difficult time for the world, you've got some extra time to catch up on a few movies, books, or shows you've been meaning to binge watch.
Need a Distraction? You Can't Do Better Than Shawshank Redemption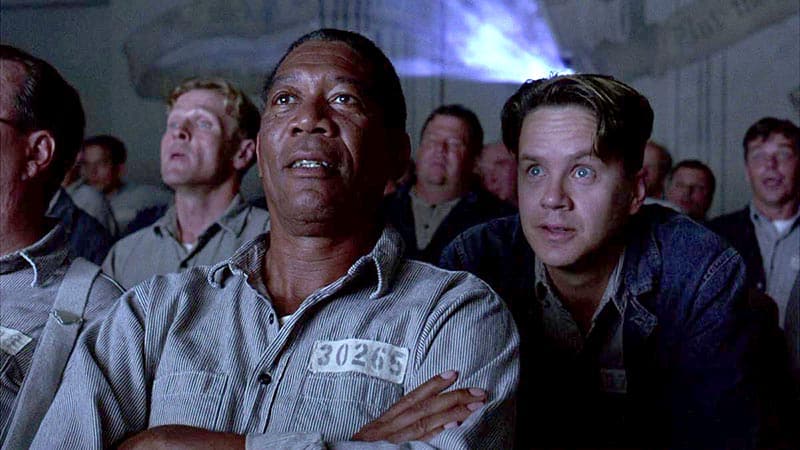 With so much content to sift through out there, where do you start?
Start with what your instinct is telling you to experience. I know for myself, in any trying time, whether it be personal or the global problem we all find ourselves in, movies that lift my spirits and remind me what life is all about come to mind first.
And rest assured, for you Shawshank-newbies, watching this film once and forgetting it will be impossible. Watching it for the first time is a viewing experience like no other. You will be left moved during its closing credits and long after.
An Experience with Staying Power
That feeling stays with you. Like the rest of us who have seen it a handful of times, you will want to revisit it again and again. Especially if you find yourself at a turning point in life.
That's always been the case for me. First introduced to it during my high school media class, my teacher was a huge fan and very excited to show the film to the class. After watching it over two periods, we discussed it vivaciously. I even did my Year 11 final exam on the film.
Before I owned the DVD, I would eagerly wait for the film to come on TV, which it would be at least once a year. That feeling you get when a movie you love surprises you by being on the box that night is special, and I would stop whatever I was doing and watch it on television that evening.
Stephen King's Softer Side
The other surprise about the film is that it came from the mind of Stephen King. Through the 1970s and 80s predominantly, King wrote horror novels. In between those classics, he released the occasional collection of short stories and novellas.
It was in those smaller stories where he could show the more human and heartfelt side to himself, ditching monsters for emotions, and catching us all by surprise at how deep and insightful he could be about life and the human condition.
Rita Hayworth and the Shawshank Redemption is one of his finer efforts in this category, and from my point of view the best film adaptation of a Stephen King story ever.
Conclusion: The Shawshank Redemption
Do yourself a favor and take a trip into Shawshank. You will be saddened, shocked, angered, and find yourself laughing from time to time.
Most of all, you will be changed, seeing movies and life differently from then on.